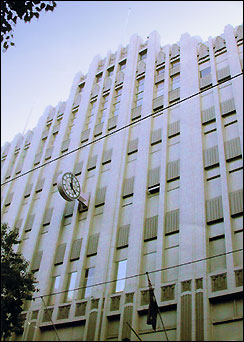 ADS recently submitted a nomination to Heritage Victoria for the listing of the facades of the Myer buildings (Bourke St and Lonsdale St) and the Myer Mural Hall, 6th Floor, Bourke St. The submission was supported by the National Trust.
Both buildings were designed by prominent architects, HB and FW Tompkins, and the Mural Hall (6th Floor, Bourke St) features a series of murals by noted Melbourne painter Napier Waller. It is one of the few remaining halls from the 1930s in department stores in the world. A major thrust of the ADS submission is the social and historical importance to Melbourne of the Myer stores, and ADS has been delighted with the positive feedback about the importance of listing and preserving these spaces.
The word "icon" is overworked today, but in the case of the Myer store, it is an accurate description. This is a major preservation initiative by the Society and we are now awaiting the assessment of our submission by Heritage Victoria.